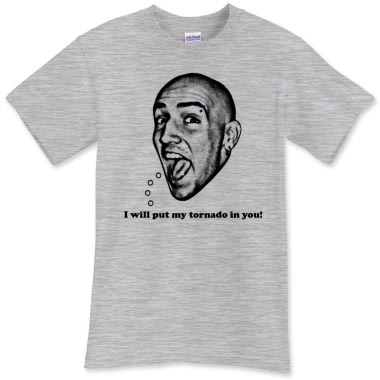 "What do the popular kids like to wear?" I wondered. "Shirts," came the still small voice inside that tells me necessary truths, such as when I have to go to the bathroom, "shirts of the T variety." "What looks good on a shirt?" I asked. "Huge faces, as huge as possible," answered the still small voice.
The front reads: I will put my tornado in you! The back reads: BUSCHLE: A MAN MADE OF WEATHER.
The purpose of these shirts is twofold: to show your support for Craig when you're out and about in the Nati OR THE WORLD, and to raise a little money for his fund. The markup on each item will go to Craig -- five dollars per shirt. Many colors and styles are available.
Click here to buy one!
T'anks,
Tricia